Nosh nostalgic
7 recipes inspired by beloved holiday films
By Natalie Mikles
There's no time like the holidays to curl up at home with good food, warm drinks and a movie.
Best of all are Christmas movies — those classics or cult favorites that allow us to quote the lines or sing the songs or just let us to be kids again. What's even more fun is gathering friends or family to watch together, over a themed dinner.
These food and film pairings can be elaborate, with invitations, decorations and four courses of subtle movie references. Or, choose one dish to help tie in the film with the food.
It was hard to narrow them down, but we picked seven delicious dishes inspired by popular Christmas films. So, save yourself the hour of browsing Pinterest for menu ideas. Spoiler alert: These recipes are great even if it's not movie night.
A generation of kids watched "Home Alone" and wondered what it would be like to be Kevin McCallister, the 8-year-old boy accidentally left behind while his parents, siblings and extended family go to Paris for Christmas.
As a kid, imagining having the whole house to yourself is both terrifying and exhilarating. When Kevin orders a cheese pizza just for himself, perhaps only a kid could know what a great feeling that would be. No sharing, no fighting a sibling for the biggest slice — instead, a whole cheese pizza, all for him.
You can recapture that feeling by making your own cheese pizza and watching "Home Alone," a 1990 movie that despite changing tastes in fashion and home décor, has aged well.
A Lovely Cheese Pizza … Just for Me
Serves 1
2 teaspoons honey
1 package active dry yeast (about 2 ¼ teaspoons)
¾ cup warm water (100 to 110 degrees)
2 cups all-purpose flour
½ teaspoon salt
1 tablespoon chopped fresh basil or oregano (or a mixture of both) or ¼ teaspoon dried basil or oregano
2 tablespoons stone-ground yellow cornmeal
½ to ¾ cup pizza sauce, homemade or store-bought
8 ounces sliced fresh mozzarella cheese
1 cup shredded mozzarella cheese
2 to 3 tablespoons grated Parmesan cheese
Preheat oven to 450 degrees.
In a large bowl, dissolve the honey and yeast in ¾ cup warm water. Let stand 5 minutes or until bubbly. Add 2 cups flour, salt and chopped herbs to yeast mixture; stir until a soft dough forms. Turn dough out onto a lightly floured surface. Knead until smooth and elastic, about 6 minutes. Add enough of the remaining flour, 1 tablespoon at a time, to prevent dough from sticking to hands. The dough might feel a little sticky.
Place dough in a large bowl coated with olive oil or cooking spray, turning to coat top. Cover and let rise in a warm place free from drafts, 30 minutes or until doubled in size. (Gently press two fingers into dough. If the indentation remains, the dough has risen enough.)
On a lightly floured surface, roll dough into a 12-inch circle. Place dough on a pre-heated baking sheet or pizza stone sprinkled with cornmeal. Crimp edges of dough with fingers to form a rim.
Top the crust with the pizza sauce, sliced mozzarella, shredded mozzarella and grated Parmesan. Bake for 12-15 minutes.
Dr. Seuss knew how to make all our Grinchy hearts grow three times their size when he wrote the beloved "How the Grinch Stole Christmas!" Kids have been watching the animated short film adaptation since 1966, and the full-length live action version became a new classic when it came to the big screen in 2000.
For many, it just isn't Christmas without Cindy-Lou Who and the Grinch.
"He took the Whos' feast! He took the Who-pudding! He took the roast beast! He cleaned out that icebox as quick as a flash. Why, the Grinch even took their last can of Who-hash!"
Stolen Roast Beef with Cracked Peppercorns
Serves 8
2 tablespoons Dijon-style mustard
1 tablespoon extra-virgin olive oil
3 cloves garlic, minced
¾ teaspoon salt
1 teaspoon cracked pink and black peppercorns
1 (2 ½ pound) center-cut beef tenderloin roast
Preheat oven to 425 degrees. In a small bowl, combine mustard, olive oil, garlic, salt and peppercorns. Spread mixture over the beef tenderloin. Place roast on a rack in a shallow roasting pan.
For medium-rare, cook the beef, uncovered, for 35-40 minutes or until internal temperature registers 135 degrees on an instant-read thermometer. For medium, cook the beef, uncovered, for 45-50 minutes or until meat reaches 150 degrees. Cover with foil, and let stand 15 minutes before slicing. Meat temperature will rise about 10 degrees after standing.
Cut roast into 8 slices. Serve roast with a horseradish cream sauce or an assortment of roasted root vegetables or figs.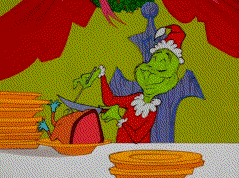 This adult movie deserves an adult drink, especially if you're awaiting the arrival of crazy relatives.
Cousin Eddie in 1989's "Christmas Vacation" can make just about anyone feel better about their family. And our eggnog, spiked with a healthy dose of bourbon and brandy, could do just the trick to make an awkward family gathering a little more convivial.
"Can I refill your eggnog for you? Get you something to eat? Drive you out to the middle of nowhere and leave you for dead?" — Clark Griswold
Clark's Classic Eggnog
Serves 6
6 eggs, separated
½ cup sugar
¾ cup good bourbon
¼ cup good brandy
½ cup heavy cream
1 ½ cups whole milk
1 ½ cups half and half
Pinch of cinnamon
1 teaspoon freshly ground nutmeg
In a bowl, beat egg yolks and sugar on low speed until blended. Turn mixer to high and beat until thick and pale, about 10 minutes.
Add bourbon and brandy in a thin drizzle while continuing to beat at high speed. Cover and refrigerate at least 20 minutes.
Whip egg whites and heavy cream until stiff peaks form. Set aside. Pour chilled egg and bourbon/brandy mixture into a large bowl or large pitcher. Add milk, half and half, cinnamon and nutmeg. Gently fold in egg whites and cream mixture. Sprinkle with more nutmeg to serve.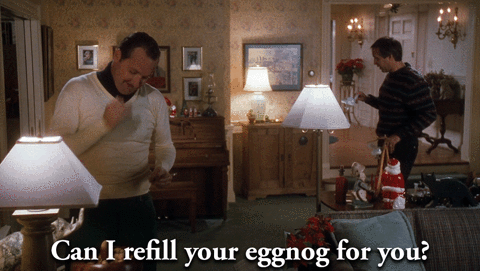 It's a moment of pure joy when Mrs. Cratchit brings the Christmas pudding to the table in "A Christmas Carol." Even though the pudding is rather small — though no one would dare say it — the pudding itself is a symbol of Christmas cheer, love and the bonds of family.
English pudding is traditionally made with suet (raw, hard beef or mutton fat), candied and dried fruit, egg and brandy. It's often steamed or boiled and is sometimes flambéed just before serving. It's quite similar to American fruitcake, but often with a softer texture.
We found a pudding that's all-around more likeable, plus it's super simple and is baked in a slow cooker. Serve it in honor of "A Christmas Carol" while watching your favorite version, whether it be the 1938 original with Reginald Owen or the 2009 film with Jim Carrey as Scrooge.
Gingerbread Pudding
Serves 8
1 (12-ounce) French bread loaf, cut into 1-inch cubes
1 ½ cups chopped pecans, toasted
1 cup raisins
3 large eggs, lightly beaten
3 cups half-and-half
1 cup firmly packed light brown sugar
¾ cup molasses
¼ cup butter, melted
1 tablespoon vanilla extract
2 teaspoons ground cinnamon
½ teaspoon salt
½ teaspoon ground ginger
½ teaspoon ground nutmeg
Whipped cream, for topping
In a slow cooker, combine French bread, pecans and raisins. In a medium bowl, whisk together eggs and remaining ingredients. Pour over bread mixture, stirring well to coat ingredients; cover and let stand 30 minutes. Stir again to coat bread evenly with egg mixture.
Cover and cook on low 4 hours or until set. Let stand 15 minutes before serving.
Serve with whipped cream dusted with cinnamon.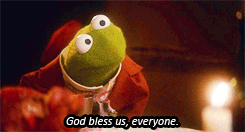 "A Christmas Story" checks all the boxes for a theme party. The 1983 cult classic turned family favorite is full of one-liners often used to finish each other's sentences.
Decorations for this party can be as extravagant as you like, but if you only do one thing, get a leg lamp.
For food, you can make pink bunny cookies or your favorite fudge — labeled of, course, "Oh, fudge." But the tastiest thing you can make comes from the movie's ending.
Ralphie and his family end up at the Bo' Ling Chop Suey Palace for Christmas dinner, where the waiters sing Christmas carols and Peking duck takes the place of the Christmas turkey.
This Moo Shu Pork is traditionally served on Mandarin pancakes. But it's also good served with rice or rice noodles.
Moo Shu Pork
Serves 4
Marinade:
2 tablespoons low-sodium soy sauce
1 teaspoon sesame oil
2 teaspoons cornstarch
1 pound boneless pork loin, cut into 1-inch strips
8 dried shiitake mushrooms
3 teaspoons sesame oil
4 eggs, beaten
2 teaspoons minced ginger
2 cloves minced garlic
4 cups chopped or shredded Napa cabbage
2 cups bean sprouts
1 bunch scallions
1 tablespoon low-sodium soy sauce
3 tablespoons hoisin sauce
1 tablespoon rice wine or sake
Marinate pork in the refrigerator for 1 hour, stirring occasionally to distribute marinade. After an hour, remove pork and discard marinade.
Add dried shiitake mushrooms to a bowl of boiling water. Cover, and let stand 20 minutes. Drain, discard stems and slice mushroom caps into thin strips.
In a pan, heat 1 teaspoon sesame oil over medium-high, add pork and stir-fry until brown, about 3 minutes, then remove from pan.
In the same pan, add eggs and cook for 2 minutes. Set eggs aside with pork.
In the same pan, add 2 teaspoons sesame oil, shiitake mushrooms, ginger and garlic. Cook until soft, about 2 minutes. Add shredded cabbage, sprouts, half the scallions and 1 tablespoon soy sauce. Mix and cook until tender, 2-3 minutes.
Return eggs and pork to the pan, then add hoisin sauce and rice wine and cook until heated through, about 2 minutes. Stir in the other half of scallions.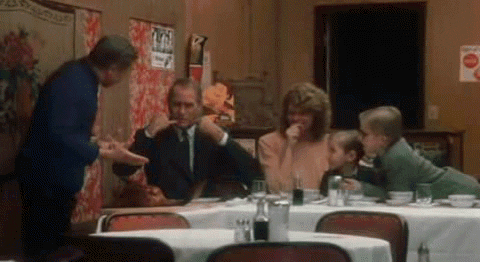 If Buddy the Elf had his way, we would all be eating bowls of spaghetti covered in maple syrup, marshmallows, chocolate sauce and candy. But since we didn't grow up at the North Pole, how about something a little more appetizing?
"Elf," released in 2003, is one of those rare Christmas movies loved by both kids and adults. It's a fun one to watch while decorating the tree or wrapping presents. Make it even more fun with a themed dinner to go along with the movie.
This spaghetti has the colorful toppings of Buddy's pasta, but with much better flavor.
Buddy's Christmas Spaghetti
Serves 4
1 cup balsamic vinegar
¼ cup pine nuts
1 pound uncooked spaghetti
1 tablespoon olive oil
1 small yellow onion, chopped
4 Italian sausages, sliced (casings removed)
2 garlic cloves, minced
1 (28-ounce) can whole San Marzano tomatoes
1 cup fresh basil, chopped
1 tablespoon fresh oregano or 1 teaspoon dried oregano
1 teaspoon crushed red pepper
Pinch of sugar
Salt and pepper, to taste
½ cup freshly grated Parmesan cheese
Preheat oven to 350 degrees.
To make balsamic reduction: In a small saucepan, bring balsamic vinegar to a boil over medium-high heat. Reduce heat to medium, and simmer 5 minutes or until the mixture has been reduced by half. Set aside.
Place pine nuts on a baking sheet, and toast in the oven until fragrant and golden brown, about 4-5 minutes. Set aside.
Bring a large pot of water to a boil over high heat. Cook dried pasta according to package directions.
While pasta is cooking, warm olive oil in a large sauté pan over medium heat. Cook onion with Italian sausage until sausage is cooked through and onion is tender. Add garlic, cooking just until fragrant, about 1 minute. Add tomatoes, slightly crushing with the back of a spoon. Bring to a simmer. Add basil, oregano, crushed red pepper, salt and pepper.
Add spaghetti to sauce, coating noodles. Pour into a large serving dish. Drizzle with reduced balsamic, freshly grated Parmesan cheese and toasted pine nuts.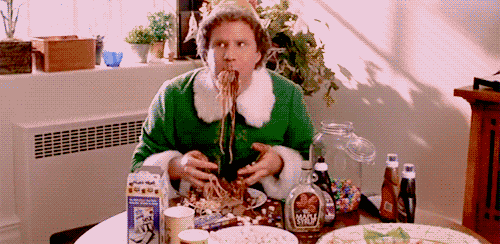 "Here we've only got one rule: Never, ever let it cool!"
The hot chocolate scene in 2004's "The Polar Express" is such fun and makes you want a cup of your own immediately.
Invite your neighbors or your kids' friends over for a "Polar Express" party, where everyone can come in their coziest flannel pajamas and warm up with mugs of hot chocolate.
Hot chocolate and hot cocoa are both delicious, but let's distinguish between the two. Hot cocoa is a less rich drink — and easier to make. Hot chocolate is made with good chocolate bars, melted and combined with milk, cream or, for a really decadent drink, sweetened condensed milk.

Polar Express Hot Chocolate
Serves 4
½ cup water
4 ounces bittersweet, semi-sweet or milk chocolate, cut into ¼-inch pieces
2 cups milk
1 teaspoon vanilla extract
In a small saucepan, bring the water to a boil. Remove from heat. Add chocolate, and shake the pan to make sure all the chocolate is covered by the water. Set it aside for 5 minutes to melt the chocolate.
In another, larger saucepan, bring the milk to a simmer. Whisk the chocolate and water mixture until smooth and whisk it into the milk. Continue to heat until very hot, but do not bring to a full boil. Whisk to make the chocolate frothy. Remove from heat, add vanilla, and serve immediately.