4th of July Style Guide
From the lake to the family barbecue, take your summer style game to new heights.
By Anna Bennett
Published:
We've all been there — it's the Fourth of July and you want to look cute and rock red, white and blue, but you don't want it to be too... you know...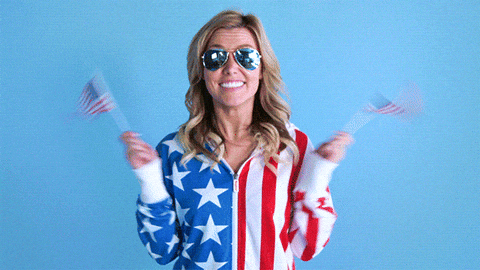 OK, that's just me who worries about such things?
Too bad, you're about to enjoy our 4th of July summer style guide whether you want it or not!
I'll be the first to admit, dressing for the nastiness that is the Oklahoma summer isn't always the easiest style decision. I am tempted every day to throw on some moisture-wicking athletic wear and save my fashionista for fall. Luckily, vintage expert Lauren Spears of The SoBo Co. has some solutions that'll keep you cool, and also looking cool.
"July can be hot and humid, so picking the right styles and fabrics is key," says Spears. "Dresses, shorts, and comfortable shoes will be your best friend. Opt for breathable fabrics like cotton and linen, and some silk-like synthetics."
Breathable fabrics. I dig it.
Here's a little outfit inspo for whatever this holiday throws at you:
4th of July BBQ
Try This: Tied front Silk Top + High Waisted Cutoffs + Sandals
Get a vintage vibe without going full pin-up girl. A few well-chosen accessories can take this look from backyard barbecue to neighborhood afterparty in a snap.
Daytrip
Wear This: Classic White Sundress
"A white, cotton sundress is always a safe bet and allows you to express creativity and patriotism in your accessories," says Spears. This look is accented by a vintage blue beaded bag (uh, precious much).
Spears suggests you can add a red scarf around the neck or a red, white and blue bag to turn a summery blank slate into a sweet nod at Americana.
A bonus on a sleeved summer dress? Sun protections — an important plus for clinically pale folks such as myself.
Summer Brunch
Wear This: Vintage Shirt Dress + Basket Bag
"The basket bag is having a serious moment right now in fashion and would pair wonderfully with any red, white or blue vintage frock," says Spears. This adds a trendy edge to a timeless silhouette.
For an extra patriotic punch, add red shoes to the mix.
My take: lean into the red, white and blue combo in a contemporary way by choosing a bold, graphic print in a trendy cut.
This asymmetrical halter dress from Style Stalker goes matchy-matchy for the 4th without leaning into gauche territory. Add a wink of midcentury mojo with pearl earring and a sultry cat eye.
Game Day
Wear This: Vintage Linen Baseball Tee + High Waisted J Brand Denim + Converse
"This look embodies summer," says Spears. "High-waisted denim and converse sneakers are taking the season by storm.
Instead of a baseball tee, Spears suggests a classic white or graphic print. But the lightweight, figure-skimming button up will likely prove more breathable (i.e., less swamp-assy) than a cotton blend tee.
My take: Sporty striped top + jeans + platform hightops
A shoe with floral details helps give this sporty look a feminine element. I also love the sheerness of the top, so even though it's dark, it's breathable.
Thanks to Lauren Spears for the expert styling advice! Be sure to check out SoBo Co., an upscale curated vintage clothing boutique now on historic Route 66.
---
---
The SoBo Co.
(918) 884-7307
1344B E 11th St
Tulsa, OK 74120
Insta | Twitter | Facebook | @thesoboco