4 days, 2 state parks, one natural adventure
I made the most of summer's last days with a long weekend in Turner Falls and Little Niagara — and I suggest you do too!
By Meagan Collins
Published:
Little Niagara
Courtesy National Park Service
In July, my family and I went down to Turner Falls Park in Davis, Oklahoma, and Little Niagara Falls in Sulphur, Oklahoma, to cool off from the hot weather. While I'd never been to either spot before, I was excited to explore Oklahoma's oldest and most popular natural attractions.
Turner Falls
The oldest park in Oklahoma, Turner Falls Park has been a recreational area since 1868. It boasts the largest Oklahoma waterfall, hidden caves, a 1930 walk-in castle ruins, primitive camping and cozy cabins, hiking trails, and natural swimming areas.
About two and a half hours away from Tulsa, I expected pristine waters and quiet camping grounds. But during my stay at Turner Falls Park, I found water bottles and beer cans littering the riverbanks and hiking trails. Some parts of the river were pleasant, but I found the hiking trails were void of shade, natural scenery or discernable maintenance. At least the swimming areas were refreshing and clean.
Little Niagara Falls
Then we drove to Little Niagara Falls in the Chickasaw National Recreation Area, just 30 minutes from Turner Falls Park. It was originally authorized in 1902 as Sulphur Springs Reservation, then Platt National Park in 1906. The Chickasaw NRA has everything a family could want in a summer vacation: six fresh and mineral water springs, two lakes, several trails, hunting and fishing opportunities, and many camping accommodations.
By the first afternoon, I was ready to cool off from hiking one of its many multi-use trails. (Fun Fact: We read our map wrong on the first day. What we thought would be a fun, 5-mile shaded trail turned out to be a 6-mile-plus hike on open prairie that is commonly used for horseback riding.)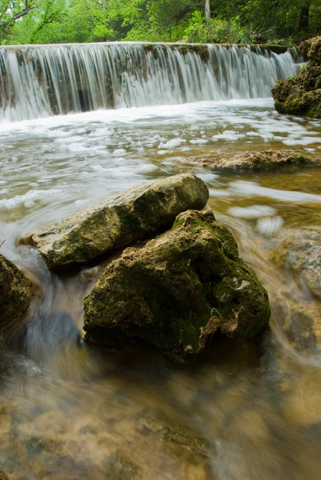 But Little Niagara Falls proved to be just the oasis I was craving. No trash here — the recreational center takes great care of their springs and forests by supplying plenty of picnic tables and trashcans. We stayed all day, dipping in and out of the chilly water and mixing drinks on the sidelines. Besides cooling off from the July heat, it was entertaining to watch people of all ages jump and flip off Little Niagara Falls.
To avoid the overwhelming noon crowd, the best time to visit this gem is late afternoon.
The Takeaway
The four-day trip to Oklahoma nature parks was exciting, to say the least. What started out as a disappointment soon turned into state pride. While the wind definitely does come sweeping down the plains, we can also boast natural springs, fun waterfalls and plentiful deciduous forests.